GuideofEngland.com
....the web's best guide to Hampshire
Alfred the Great Statue, Winchester
The most prominent statue of Winchester is the symbolic monument dedicated to the city's hero and champion, Alfred the Great. The statue of Alfred stands in the centre of the Broadway looking the length of the high street towards his ancient castle and seat of power.
The Alfred the Great Statue was commissioned to mark the millennium of Alfred's death but the delivery and assembly was a bungled and botched affair, which Winchester would sooner forget about. Alfred the Great's reign is steeped in mystery as few accurate records exist due to the Norman's systematic destruction of Anglo Saxon history but one fact is certain; the date of Alfred's death on the 26th October 899.
Alfred the Great Statue Commission
Winchester as city wished to commemorate the millennium of Alfred's death with the grand unveiling of a monument dedicated to him but political wangling and funding issues lead to the commission being severely delayed. The statue was finally inaugurated two years late in 1901 but in the rush to assemble the statue's the central granite pillar was placed upside down. The large stone section was deemed too difficult and timely for it to be rotated before the inauguration and this is how it has stood ever since.
The final assembly of the Alfred the Great Statue may have been a botched affair but the statue itself is a fine piece of work, a suitable memorial for the great Saxon king. The 4.5 meter bronze statue was designed by Hamo Thornycroft and weighs just over 5 tones. The most symbolic aspect of the statue is the positioning of the sword, which is set with the point facing downwards and held just below the hilt. This stance is symbolic as Alfred the Great was a champion on the battlefield but also a significant early Christian leader and the sword represents the cross.
The statue of Alfred the great in Winchester stands on two solid Cornish Granite bases and as mentioned previously the central base is upside down with the wider end at the top. There is a plate at the base of the statue which just has in the inscription "Alfred".
Tourist Guide to Winchester
| | | | |
| --- | --- | --- | --- |
| Getting Started | Sights | | Other Cities |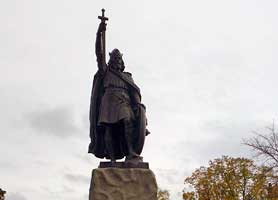 The statue of Alfred the Great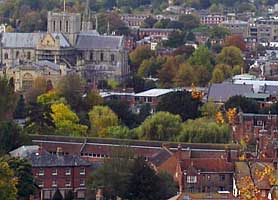 The view from st Giles Point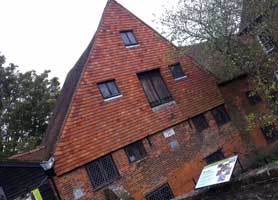 The Winchester Mill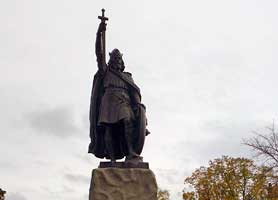 The Alfred the Great Statue Winchester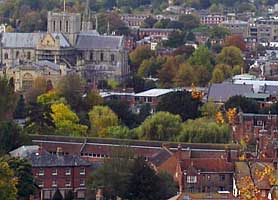 The view over the city