GuideofEngland.com
....the web's best guide to Hampshire
Winchester Cathedral's Stain Glass Window
The stain glass window above the main entrance to the cathedral has a unique mosaic pattern that is not found in any other church in England. This pattern is stunning when viewed from the inside of the cathedral and the sun is pouring through. The tale as to the origins of this distinctive window is intriguing and a story no visitor to Winchester should not know about.
The mosaic stain glass window was not the intended design but an assortment of broken fragments collected and repaired after all of the stain glass windows of the cathedral were smashed. The windows were destroyed after the Parliamentarians (Roundheads) defeated the royalist (Cavaliers) who were defending Winchester during the English civil war (1650).
The original window above the main entrance to the Norman Cathedral of Winchester was of similar design to many other churches of the era with images of popular saints and illustrations from the bible. The destruction of the stain glass windows occurred towards the end of the English civil war (1642–1651). Winchester was a Royalist heartland and much of the castle and adjoined city was ruined after the Parliamentarians overran the Winchester.
On the night of the submission of Winchester castle to Parliamentarian rule the victorious army celebrated with copious amounts of stolen alcohol from the Royalists cellars. After becoming excessively drunk the army descended on Winchester Cathedral and set about ransacking the relics and holy tombs of Anglo-Saxon Saints. Many of the tombs contained bones which some over-merry solider thought would be a good idea to send flying through the ancient stain glass windows. This continued until all of the windows were smashed with the shards of the colourful glass strewn across the cathedrals floors.
Winchesters residents were horrified by the actions of the Parliamentarians and, though in a position of little power, collected and stored the glass. The glass was stored secretly for 18 years until the restoration of the Monarchy with King Charles II. There were plans that the glass could be repaired to re-create the original designs but it became quickly evident that this would be impossible so the glass fragments were randomly joined to make a mosaic pattern. This pattern is what stands above the main entrance today.
Tourist Guide to Winchester
| | | | |
| --- | --- | --- | --- |
| Getting Started | Sights | | Other Cities |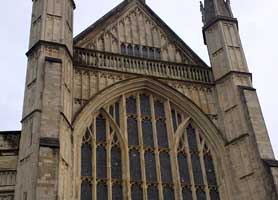 The stain glass window of the cathedral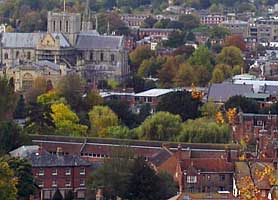 The view from st Giles Point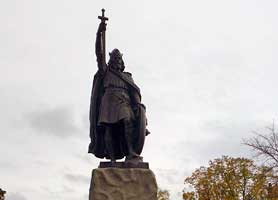 The statue of Alfred the Great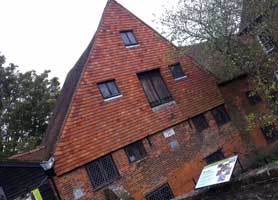 The Winchester Mill