GuideofEngland.com
....the web's best guide to Hampshire
St Giles Viewpoint, Winchester
Winchester lies along the River Ichen valley and is surrounded hills to the east and west. These hills are the steepest to the east and were the natural boundary of the city limits which today provide great panoramic views over central Winchester.
The most famous view point and were the trees have been cut to allow uninterrupted views is at St Giles Viewpoint. The viewpoint of St Giles is only a 15 minute walk from the city centre and is highly recommended for visitors as it is quiet and peaceful far away from the rush of the city.
Tourist Information for St Giles Viewpoint
The hill of St Giles lies to the east of the city and can be seen from the Broadway. To reach the view point head east from the statue of Alfred and heading straight across the two roundabouts. As the road (Bridge Street) curves to the left and climbs the hill take the first footpath on the right, this is signed.
The path includes three sets of steps, after the third set the path opens on a larger green field the location for the medieval St Giles fair. The view point is found by following the path to the right for approximately 200 meters; this final stage is not signed and catches out many visitors who think the view is just from the top of the stairs. The view point is well constructed with detailed description of the visible buildings. From the view point the ruins of the castle, cathedral and city centre can be seen.
Further Information About St Giles View Point
Even though the name of the hill and view point are named after the Saint Giles there is actual no connection with him and the location. The naming is due to the large medieval fair that was held during September and spanned his feast day. St. Giles Fair originated from the early years of the Norman Conquest but its importance grew over the next two hundred year as it allowed the powerful Bishop's of Winchester to collect taxes that could be paid directly to the king.
The fair brought in wealth for the church but alienated Winchesters residence as all other trading within a 17 mile radius was banned. The fair declined from the 13th century as Winchester's importance lessened and the country was hit by the black death.
Tourist Guide to Winchester
| | | | |
| --- | --- | --- | --- |
| Getting Started | Sights | | Other Cities |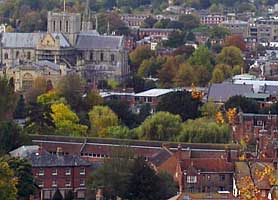 The view from st Giles Point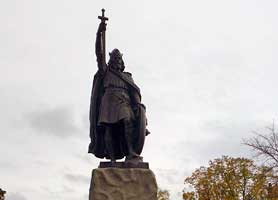 The statue of Alfred the Great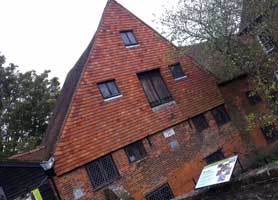 The Winchester Mill