Mudeford Quay and Sandspit; day trip, beach and tourism guide
Mudeford Quay sits at the narrow mouth of Christchurch Harbour and overlooks the sandbar peninsula of Mudeford Sandspit.
Mudeford is a quaint mix of a fishing harbour, pretty beaches and affluent summer houses, while the harbour is a popular location for water-based activities.
Departing from Mudeford Quay is a ferry to Mudeford Sandspit, and on this peninsula are colourful beach huts, beautiful beaches and hiking trails around Hengistbury Head Nature Reserve.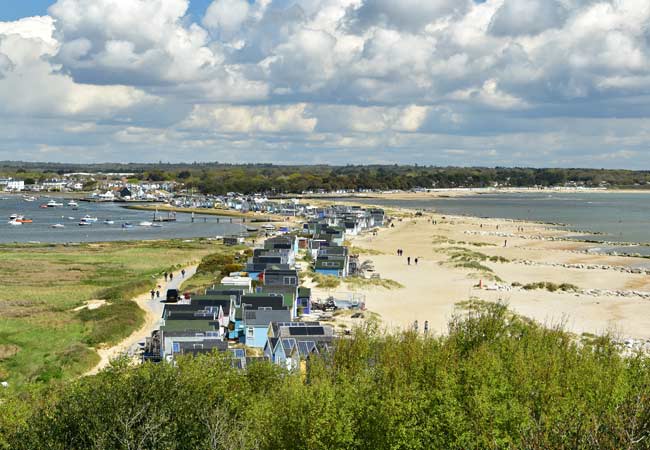 Mudeford Sandbank with Christchurch Harbour to the left of the image
Hengistbury Head is a car-free zone, and the only transport on Mudeford Sandspit is a mini-road train, which is always a highlight for young children.
The calm waters of Christchurch harbour are popular for windsurfing, sailing, SUP and kayaking, and all equipment can be hired at Mudeford Quay. During the summer, Mudeford Quay is a hive of activity with boats being launched and the estuary (known as "The Run") packed with sea-bound pleasure boats.
At the end of an eventful day in Mudeford, the Haven House Inn or The Noisy Lobster provide a beautiful setting for a drink or food.
Mudeford Quay may be semi-hidden within the sprawling residential areas between Christchurch and Highcliffe, but it is one of the best tourist locations of this region.
Advice: For any trip to Mudeford, make sure you have cash; the ferry ride (£2 single) only accepts cash and the car parking machines do not accept card (they do use the RingGo mobile app, but cash is much easier)
Related articles: Hengistbury Head - Christchurch - Highcliffe
Highlights of Mudeford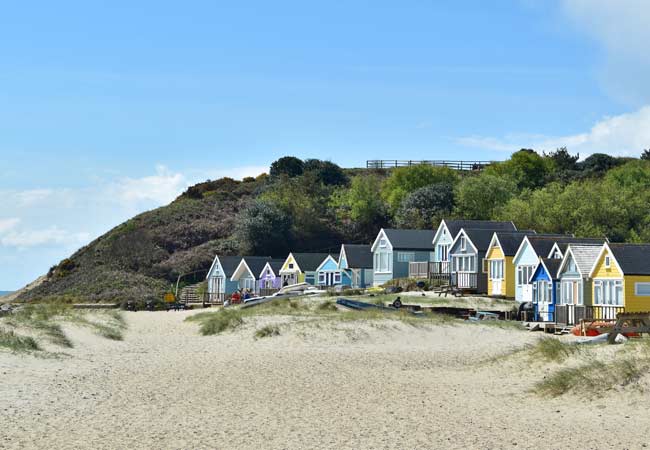 Mudeford Sandspit - sandy beaches and expensive beach huts, set within the pristine coastal landscapes of the Hengistbury Head Nature Reserve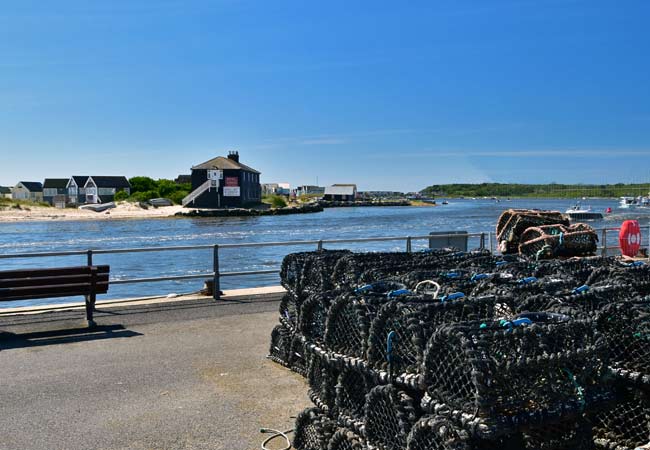 Mudeford Quay - A working fishing harbour, with a lifeboat station and pretty fishermen's cottages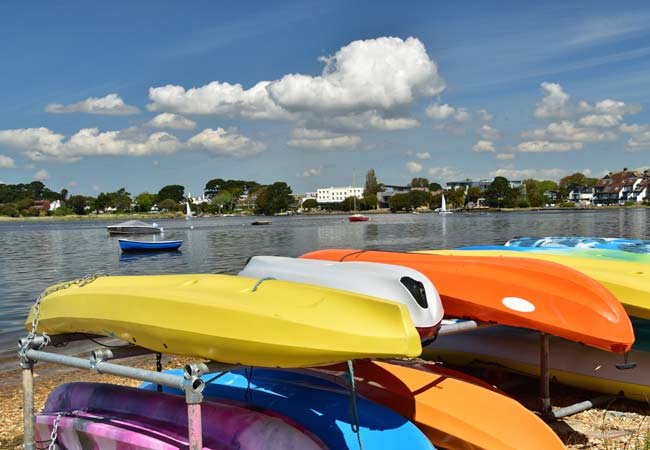 Christchurch Harbour – Tranquil harbour to sail, stand up paddleboard (SUP) or Kayak in.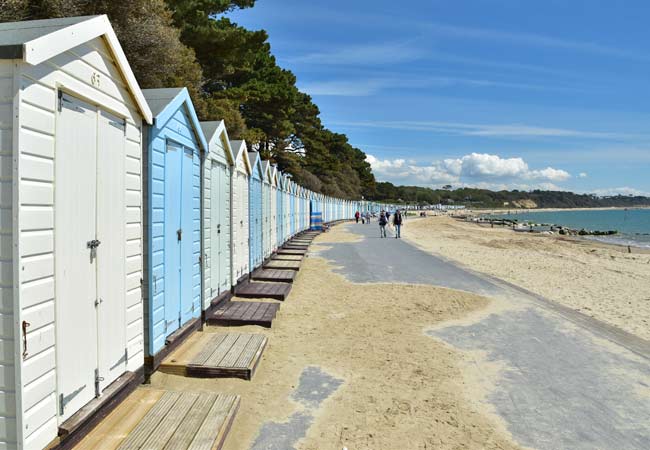 Avon Beach - A popular family beach, with a pretty beach promenade lined with colourful beach huts
A day trip to Mudeford
Mudeford makes for an enjoyable day trip, and is a pleasant alternative to a beach focused day.
A pleasurable couple of hours could be spent in Mudeford Quay and meandering along the beach promenade to Avon Beach.
The day trip could be extended by catching the ferry to Mudeford Sandspit and exploring Hengistbury Head. This could include riding the road-train to Hengistbury, hiking along the cliffs to the coastguard viewpoint or relaxing on the beaches.
Below is an interactive map for a suggested day trip to Mudeford. The main sights of Mudeford are shown in green, and the yellow markers display the restaurants and cafes of the area. The marked green route covers 5km.
Sights and activities of the day trip: 1) Mudeford Quay 2) RNLI Lifeboat Station 3) "The Run" Estuary 4) Mudeford to Sandspit ferry 5) Mudeford Sandspit beach 6) Mudeford Sandspit viewpoint 7) Mudeford Sandspit Lagoon 8) Hengistbury road train 9) Avon beach 10) Coastal walk to Highcliffe Castle
Restaunts, cafes and pubs (yellow): 1) Haven House Inn (pub) 2) Haven Café 3) Beach House (café) 4) The Noisy Lobster (resturant) 5) Sandpiper pub/resturant 6) Deli-Licious (café) 7) The Jetty (upmarket resturant) 8) Mudeford Rocks (cafe)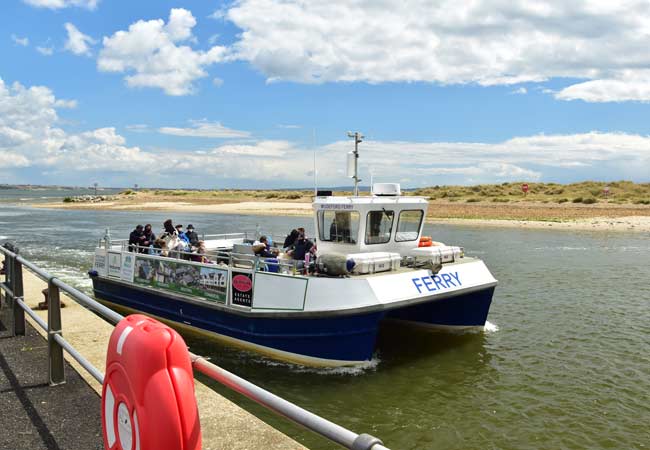 The Mudeford ferry crossing the fast-flowing "run" estuary over to Mudeford Sandspit and Hengistbury Head
Mudeford for families
Mudeford is a fantastic location for families and young children.
The ferry and the road train are always memorable experiences, and Avon beach is child-safe beach. In Mudeford Quay is achildren's play area, while the large field overlooking the harbour is ideal for a picnic.
A unique family activity while at Mudeford Quay is to go crabbing. The waters at the base of the quay seawall are teeming with small crab, which can be easily caught using lines and bait. Buckets and children's crabbing lines can be purchased from the gift shop next to the pub.
Mudeford's beaches
The two beaches of Mudeford are Avon beach and Mudeford Sandspit.
Note: The shoreline surrounding Christchurch Harbour is muddy and not suitable for bath or beach activities.
Mudeford Sandspit is the much better beach, boasting a sandy coastline that extends for over 1km. The easterly facing direction of Mudeford Sandspit also means it is sheltered from the prevailing sea breeze and waves, unlike the beach on the western side of Hengistbury head. The only downside Mudeford Sandspit beach is that the ferry (£4 return) must be caught to reach it.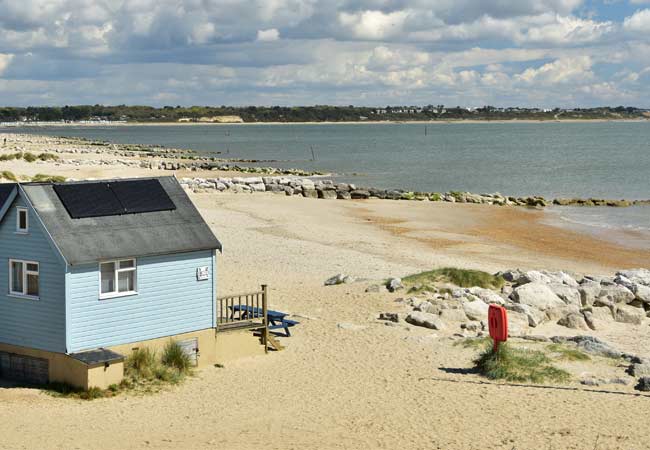 Mudeford Sandspit beach
Avon beach is a very popular sandy beach to the east of Mudeford. The section of beach close to the mouth of Christchurch harbour is a mix of sand and pebbles, but at the eastern side, there is lots of soft sand. Avon beach has a pretty beach promenade lined with colourful beach huts, which can be hired for £150 per day in the summer months. As Avon beach is the best beaches along the Highcliffe coastline, expect it to be very busy in the summer, and a nightmare to find any car parking.
Related articles: The best beaches of the New Forest region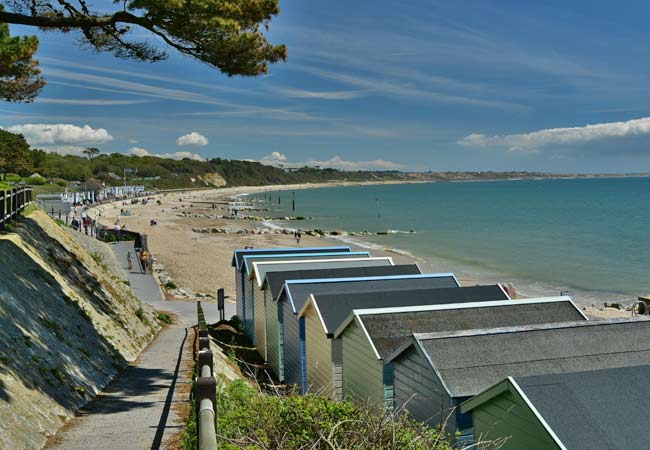 There is more sand towards the eastern side of Avon beach, close to Friars Cliff beach
Christchurch harbour
Christchurch harbour is a shallow tidal harbour, which is fed by the Avon and Stour rivers.
Even though it is called Christchurch Harbour, the best place for all water-based activities is at Mudeford. At Mudeford Quay, boats can be launched, windsurfers set up and SUP paddle from. During the summer, a wetsuit is the most commonly seen piece of clothing about the quay.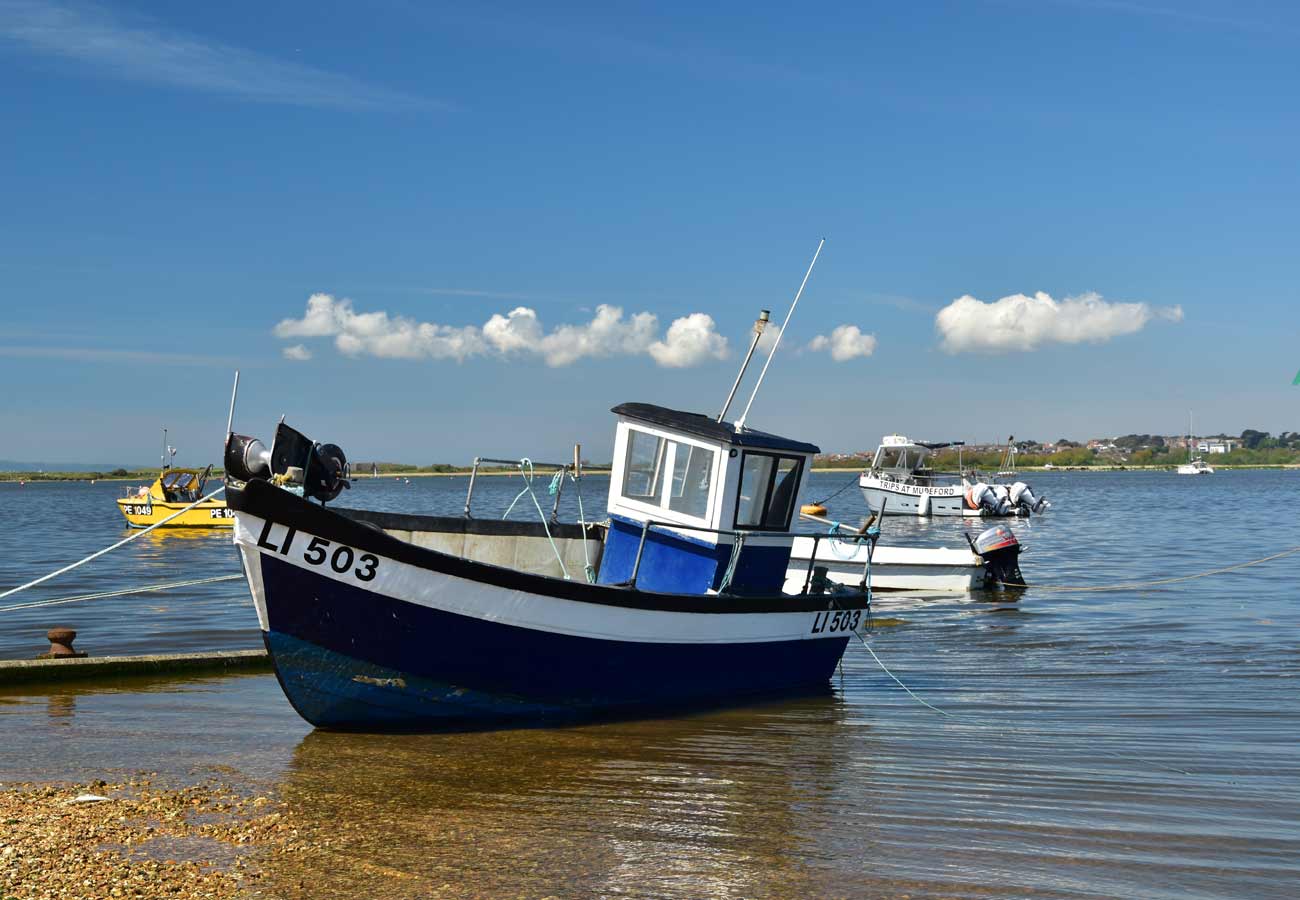 Kayas, SUPs and windsurfing equipment can be hired from Shoresports, which is found next to the dinghy moorings. Rates are Kayak £10/£15 (single/double) per hour, SUP boards £20 for 2 hours and windsurf for £25 per hour; www.shoresports.co.uk/
The Slipway Charges to launch a boat from Mudeford Quay is £10.
Advice: Christchurch harbour is very shallow, and at low tide, there is a large sandbank in the centre, while the shoreline is surrounded by sticky mud. For any harbour activities, high tide is better.
Warning: At the change of tide, water rushes in and out of the narrow mouth of Christchurch Harbour, and is much too fast to paddle/sail against.
Eating at Mudeford
There are a few good options for eating and drinking at Mudeford, but expect everywhere to be very busy during the summer months. On the quay is the Haven House Inn, a pub that serves traditional pub food, and has lots of outside seating. Next to it is the Haven Café, for lighter meals and snacks.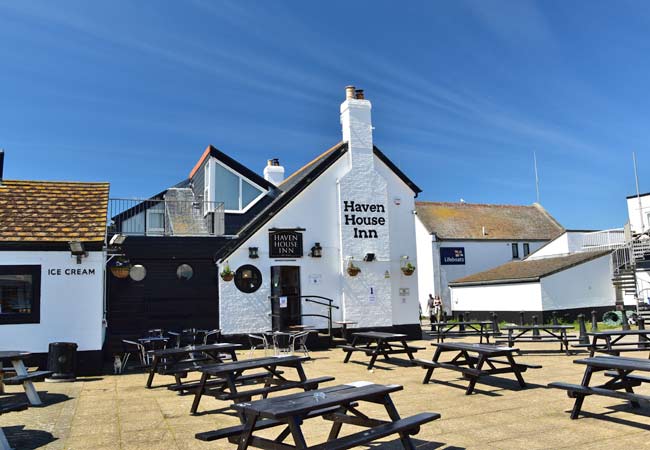 The Haven House Inn has lots of outside seating
There is a single café on Mudeford Sandspit, the Beach House, which serves surprisingly good food (www.beachhousecafe.co.uk/), but again it will be busy in the summer.
At Avon beach, there is the excellent "Noisy Lobster" restaurant (avon-beach.noisylobster.co.uk), and it is surrounded by ice-cream stalls and coffee shops.
For a good family choice for food after visiting Mudeford is the "Sandpiper" pub, (a Greene King chain pub) offering sensibly priced food and a family-friendly atmosphere.
Our advice: Mudeford is one of those places where its easier just to bring your own food and have a picnic…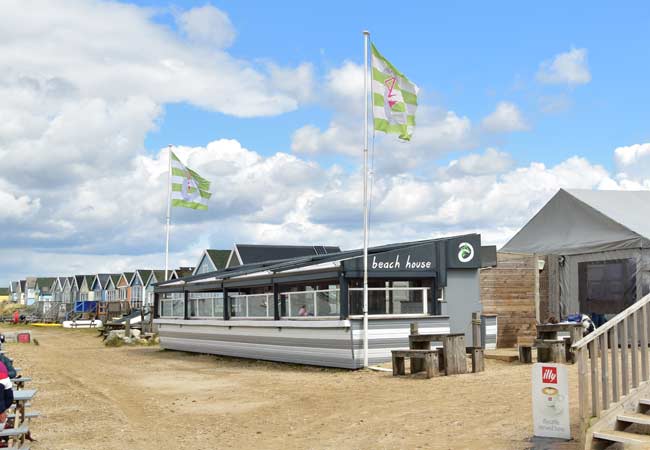 The Beach House on Mudeford Sandspit
Parking…..
As with everywhere in the Dorset coastline during the summer months, there is insufficient car parking and is a money-making activity for the local council. The quay car park has 448 spaces which quickly fill up. Further car parks are at Avon Beach (99 spaces) and Avon Run Road (222 spaces).
The 2021 summer rates are £3.50/£6.30/£11.60 (up to 2/4/8 hours). If you do not have cash, you can pay using the RingGo mobile phone app.