Chichester, West Sussex: a tourism guide for 2023
The cathedral city of Chichester lies in one of the most interesting regions of the south coast.
The actual city doesn't have a vast assortment of sights, there is the massive gothic cathedral, a traditional high street and peaceful Prior Park, but the real appeal of Chichester is the region surrounding the city.
Found within this area is the Roman palace ruins of Fishbourne, the gorgeous beach at West Wittering, the delightful harbour of Bosham, Goodwood Motor Circuit and the unspoilt countryside of the South Downs National Park.
As a tourist, it is very easy to overlook Chichester and be drawn to the much more picturesque town of Arundel or the holiday atmosphere of Bognor Regis. This is a shame as there is a lot to discover in and around Chichester.
This article will show you why you should visit Chichester and help you get the most from the region.
Related articles: Arundel guide
Highlights of the Chichester region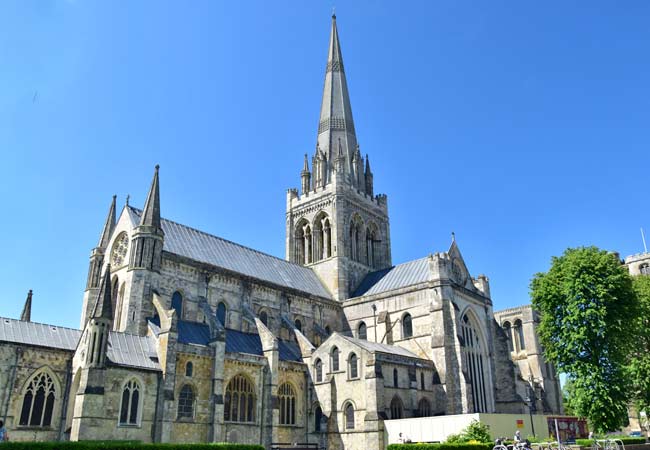 Chichester Cathedral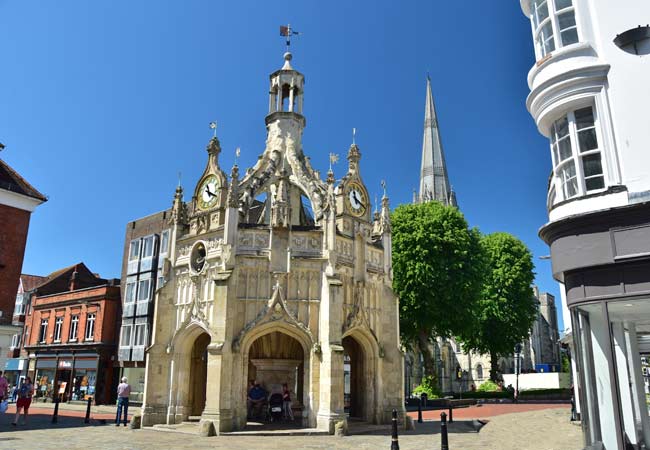 Chichester town centre – A crossroad of bustling shopping streets with the Chichester Cross at its centre
Top 10 sights of Chichester and the surrounding area
The following map shows the main sights of Chichester (yellow) and the green pins highlight the top 10 sights of the surrounding region:
Sights in Chichester 1) Chichester Cathedral 2) Market Cross Clock Tower 3) Pallant House Gallery 4) The Novium Museum 5) Bishop's Palace Garden 6) The Chichester Festival Theatre 7) Chichester Art House Cinema 8) Priory Park
Sights around Chichester 1) West Wittering Beach 2) Bosham 3) Goodwood House 4) Fishbourne Roman Palace 5) Kingley Vale nature reserve 6) Weald and Downland Living Museum 7) Salterns Way 8) West Dean Gardens
Chichester as a day trip
If you arrive into Chichester in the early evening, it's really worthwhile to go and see a performance at the Chichester Festival Theatre, widely known for its exceptionally high standard of productions, several of which have transferred to London's West End. You can see a full programme of listings here https://www.cft.org.uk/
Make it an early start the following morning and head to the Cathedral. Volunteer guides offer drop in tours and it's free to walk around and enjoy the medieval splendour.
From here you can wander around the adjoining gardens and then find yourself back out by the market cross clock tower where four largely pedestrianised streets intersect to take you north, south, east or west. From here, it's a 5 minute walk to the Novium Museum on Tower Street.
The Novium Museum is a small but very worth-while place to visit, built over the remains of an old Roman bathhouse with three floors of exhibitions. It tells the story of Chichester and the heritage of the area. Entry is free.
By this time, you're probably feeling the need to take a break, and there's a wide selection of enticing places to eat and drink ranging from familiar chains to independent organic eateries and pubs. The streets are also brimming with shops to enjoy at your leisure.
Why stay longer in Chichester?
As much as a short visit to the town centre is highly enjoyable, the best bits are to be found in the surrounding area. We've listed our favourite spots below:
West Wittering Beach has been a favourite location with the locals over generations. There is an expansive sandy beach which when the tide goes out, leaves shallow lagoons like paddling pools for children to play in as far as the eye can see. There is a large car park to access the beach where charges vary depending on the season and a number of cafes and pubs nearby.
Bosham is a pretty village in the harbour, popular with artists, photographers and bird watchers. The village offers great walks along the tidal shore and lots of little shops and places to eat.
Goodwood House and estate offer an incredible range of activities, most notably horse-racing and motor racing. It attracts over half a million visitors annually to its biggest events; the Goodwood Festival of Speed, The Goodwood Revival and Goodwood Festival: https://www.goodwood.com/
Fishbourne Roman Palace is an historic site where the remains of the largest domestic Roman building in Britain can be found.
A short journey out from Chichester takes you into the South Downs National Park. Here you will find an extensive system of footpaths which take you through some of the most beautiful countryside England has to offer. The South Downs Way is a clearly marked chalk trail that runs 161km along the entire length of the park and is very popular with off-road cyclists and horse-riders. The regular no 60 bus from Chichester to Midhurst stops two hundred metres south of the South Downs Way at Cocking on the A286. If you have a car, another good access point is from Whiteways café at Bury Hill where there is lots of parking and a large selection of beautiful walks in all directions depending on how far you want to go.
Arundel is an exciting little river-side town boasting years of rich history and heritage with it's magnificent castle and towering Cathedral, alongside art galleries, restaurants and boutique shops. In the summer, there is outdoor swimming in the Lido, made all the more special with views of the castle from above. There are direct train and bus connections from Chichester.
Related articles: Arundel guide
Midhurst is an historic town in the South Downs National Park with impressive ruins of one of England's great Tudor houses.
Petworth House is an extraordinary grand building nestled in 700 acres of beautiful park land with the largest herd of fallow deer in England. It is managed by the National Trust.
The best lesser-known sights of Chichester
During the summer, watch highly skilled riders playing Polo at a tournament on the Cowdray Estate in Midhurst, home of the world-famous Gold Cup for the British Open Polo Championships.
A 10 minute drive out of the city takes you to Kingley Vale nature reserve famed for its ancient twisted yew trees. From the small car park, there are clearly marked footpaths that if you wish, take you to the top of the Downs with incredible 360 degree views all the way to the sea and across the county on a clear day. You can combine it with a picnic or stop in one of the country pubs nearby.
The Salterns Way is a 2-mile long cycle path that runs from Chichester city centre, past Dell Quay, Chichester Marina, Birdham and Itchenor, ending at the sandy dunes of West Wittering beach & East Head.
https://www.conservancy.co.uk/page/salterns-way
Weald and Downland Living Museum tells the story of rural life in England over the last 1000 years. And brings to life the homes, farmsteads and rural industries of the south east countryside. Further information can be found on their website: https://www.wealddown.co.uk/
There are the beautifully restored historic West Dean Gardens: https://www.westdean.org.uk/gardens/about/history
With advanced booking, it is possible to go wine tasting at one of the nearby award-winning vineyards such as Nyetimber or Upperton.
Nyetimber - https://nyetimber.com/product/open-day-ticket/
Upperton - https://www.uppertonvineyards.co.uk/
Chichester for families and children
For young families with children, choosing Chichester as a base for a holiday is ideal – particularly if you have a car. Aside from the attractions and activities outlined in this article, additional options are;
• Flip Out indoor soft play and trampoline park – prices vary from £6-11.50 depending on age & length of time you wish to stay.
• Little Street role play centre with a selection of themed rooms costing £6 per child including one adult. Check session times as they change with term times and school holidays/activities
• Butlins holiday resort just a 15 min drive away. The Splash pool complex is fantastic with slides, flumes, rapids and wave pool etc. You can book online in advance and save 20% on a day pass entry. There is a bus that goes there every 20 minutes from Chichester and costs £3-4 and takes 20 minutes but do check before you go as day passes aren't available all the time
Visiting Chichester – Summary of logistics
You can easily walk around Chichester in a day. It's pedestrianised streets are flat and neatly divided up into a cross in the middle where the central clock tower is located. With this as a landmark and the Cathedral just beside it, the city is very easy to navigate. If you prefer, it's possible to take a guided tour which costs around £6 and takes about 90 minutes.
Gatwick airport to Chichester takes about 1 hour on the train with no changes. It costs about £16.50 one way for an adult off peak. £16.60 if you return on an off-peak train on the same day or £26.90 anytime return within one month, as long as you travel off-peak.
The train is also direct from London Victoria station, and from here it takes about 1.5-2 hours. A single adult ticket would be about £19.30 and off-peak return approximately £38.10. Chichester is also on the south coast rail line so can be easily navigated to from cities such as Brighton or Southampton where bus links are very good too.
The train and bus station are located a few minutes' walk south of the city centre.
To really make your visit worthwhile, and explore the surrounding areas it makes sense to hire a car as the rural areas then become much more accessible. However, having said that, it is possible to get to nearby towns and villages by bus, you just need to plan your journey a bit more carefully.
Who is Chichester ideal for?
For a relatively small city, Chichester and the surrounding area has a huge offering and as such, attracts a diverse range of visitors who are all looking for something different.