The best beach in Sussex; Top 10 beaches near Brighton
Sussex has some of the most beautiful beaches in England. This is a varied and magical coastline; there are the summer hotspots of Brighton and Bognor Regis through to wild and rugged beaches undiscovered by mass tourism.
These beaches detailed in this guide all have something a bit special to offer, and between them have year-round appeal. Some are easier to get to than others, especially if you rely on public transport, so accessibility is noted for each.
Related articles: Day trip to Arundel
Top 10 Beaches in Sussex
The top ten beaches in Sussex are:
1) West Wittering Beach 2) Camber Sands Beach 3) Brighton to Hove stretch of beach 4) Birling Gap 5) Climping Beach 6) Cuckmere Haven 7) Littlehampton Beach 8) Bognor Regis East and West Beach 9) Rottingdean to Saltdean stretch 10) Lancing Beach
The remainder of the article will detail why these are the best beaches in Sussex
10. Lancing Beach
Lancing beach is a go-to on any chilled Sunday, any time of year. It's mostly shingle and pebbles but you can easily park the car; it only costs £1.50 for the whole day and there's a children's play area, lots of grass to run around on, a skate park and a really great café called The Perch which serves excellent fresh coffee, cake, and a whole range of great food. It can get pretty busy as it's become so popular but with good reason. In the summer, it opens out onto the beach where you can sit and watch all the kite surfers flying up and down.
The top promenade area forms part of the traffic-free South Coast Cycle Route which links Worthing to Shoreham Harbour.
If you arrive by bus, the 700 Coastliner runs every 10 mins from Brighton (it stops outside the Churchill Shopping Centre a short walk down from the station) and drops you off right by the car park at the New Sussex Hotel stop. You can see the grassy area leading up to the beach from there. There is also a train station in Lancing on the direct line from London Victoria and you could walk to the beach from there in about 15 minutes.
The beach is also dog-friendly all year round.
9 Rottingdean to Saltdean stretch
Rottingdean is a little village east of Brighton, and Saltdean just a little further on. Year-round, this stretch of beach has great appeal. It is mostly pebbles and rock pools and there is a lovely wide undercliff path that connects the two towns with a cafe and toilet facilities at either end. The walk itself takes less than half an hour but it's always buzzing with people walking their dogs, locals cycling into Brighton, runners and young children.
On windy or rough sea days at high tide, waves can crash over the sea wall and get you a bit wet if you're not careful but it really blows away the cobwebs if you need some fresh sea air and a makes for a great beach stroll.
A lot of locals like to cycle all the way in to Brighton from here where it feeds into the marina and connects you to the city. A great way to explore the whole undercliff path is to hire a bike from one of the numerous places around Brighton using the BTN BikeShare scheme and do the whole cycle to Saltdean and back from the marina. There's lots of really nice places to eat once you get back to the marina afterwards.
If you are coming by car, it's probably easiest to park at Saltdean where there is a subway that connects the car park to the beach. With regards to public transport, it's really easy to navigate on the bus from Brighton. There are numerous buses that stop at both these towns on route to Eastbourne, Seaford and Peacehaven so you won't have to wait long. From Brighton station, the bus takes about half an hour to Saltdean, less to Rottingdean.
If you're in Saltdean on a hot summers day, there's outdoor swimming at the Lido too which has recently been refurbished and is really popular.
8 Bognor Regis East and West Beach
Like Littlehampton, Bognor Regis is prone to being a bit overlooked; however, it's beach is a hidden gem of coastal Sussex (again when the tide goes out to reveal the acres of sand) and on a lovely sunny day, there is no better place to be.
East beach runs from the pier up to Butlins, and West beach from the pier the other side where there is a small children's play area and skate park for older kids. The pier itself has its own charm with its rather old-style amusement arcade, adding a fun element to a day out at the beach. There is a wide promenade area selling all the usual favourite beach snacks and food and you can expect all the usual facilities. West beach tends to be quieter simply because it's a bit further away from Butlins.
Car parking is pay and display on the roadside mostly, and there are showers and toilets and fun rides in the summer for the children. A little train runs the length of the beach in the summer, just like at Littlehampton.
Do note that no dogs are allowed on the beach from May to September, only on leads on the promenade during this time. Bognor Regis is very accessible from London. It's about a 2.5-hour drive or 1 hour 45 min train from London Victoria.
7 Littlehampton Beach
Littlehampton Beach is the most unexpected winner in this top 10 list. In the nicest possible way, Littlehampton is not regarded as the most attractive town & most people would probably agree that if you didn't live there, there aren't all that many reasons to go… However, the beach comes up trumps and is fantastic!
The beach itself is divided into two – East Beach with the promenade and attractive garden areas, restaurants and amusement parks; and the wilder West Beach with its fine sand and dunes to the back. As with Climping, at high tide you can only see pebbles and you wonder what all the fuss is about, then the tide goes out and it has all you could possibly want from a seaside resort.
There is a little ferry in the summer which joins the two beaches which are separated by the River Arun, or a picturesque two-mile walk takes you to the footbridge where you can cross over. A little train tootles up and down in the summer providing a lot of excitement for the children, as do the doughnut and ice cream stalls galore.
There are dog restrictions in the summer on the East Beach and they do need to be on leads on the promenade but these don't apply to West Beach.
Littlehampton is about two and a quarter hours from London by car or there are direct trains from London Victoria which take about an hour and 45 mins.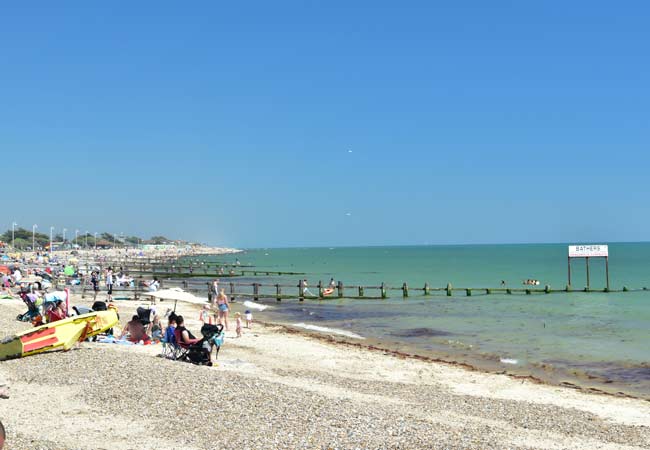 The western side of Littlehampton Beach on a busy summers day
6. Cuckmere Haven beach
Cuckmere Haven is a nature reserve where the River Cuckmere meanders out to the sea. It is very popular with canoeists and walkers and the pebble beach is very much defined by the Seven Sisters cliffs further to the east. The whole setting is very picturesque and a bit 'wilder' than the other beaches mentioned here, although it still gets pretty busy in the summer. Many people use it as a base for hiking as there are a host of really good trails in and around the area.
Cuckmere Haven is about a 2.5-hour drive from London. It is located just off the A259, between Eastbourne and Seaford. There are a couple of car parks run by the Seven Sisters Country Park which charge up to £4 for the day and have toilet and picnic facilities. From here, you follow the walking path which leads down to the sea on the east side of the river. You can park on the other side but you would be confined there unless you were prepared to get wet crossing the river, which is occasionally possible with an ebbing tide as it is quite shallow.
It's also possible to get public transport here. From London Victoria, you can get the train to Seaford and hop on a short bus as it's only 2 miles away from here. Alternatively, buses 12 and 13 from Brighton/Eastbourne stop at the park entrance.
Cuckmere Haven lends itself most to picnic-ing but it is possible to get food at the Cuckmere Inn by the bridge, and the National Trust tea room at the visitor centre 400 metres along the road. The area is dog-friendly.
5.Climping Beach
Climping has something special. To experience it at its best you need to time it at low tide, otherwise, it looks like any other pebbly beach and you'll be wondering what all the fuss is about. When the tide goes out, it is vast and sandy. That's when all the magic of the sandcastles, kite flying, swimming and dog walking is at its best and you get that wonderful feeling of expansive freedom.
Due to its location, Climping beach is a lot quieter than its neighbours but it still offers a nice little family-run beach café with homemade cakes and locally sourced produce with an outside grassy seating area. There are toilet facilities and a fee-paying car park where you can have a BBQ.
Logistically, this beach is far easier to get to by car. It is under an hour's drive from Brighton, or about 2 hours from London and you can find it using the postcode BN17 5RN. It's also very close to Arundel and Chichester, both of which make great weekend getaways with lots going on. Alternatively, if you are aiming to get here by public transport, you want to get the train to Littlehampton (direct line from London Victoria or Brighton) then the 700 bus to Chichester for 4 stops where you get off at The Oystercatcher Pub and walk 15 minutes along the lane to the beach.
Insider Tip: If you are looking for inspiration for a romantic getaway somewhere lovely and quiet by the beach, the Bailiffscourt Hotel and Spa here is a real treat.
4 -Birling Gap
The Birling Gap beach offers something quite different. It is situated below the Seven Sisters white chalk cliffs and is a marine nature reserve which lends itself to rock pooling, crabbing and fossil hunting. The beach is mostly pebbles and is accessed from the top of the cliff where there are steps down from a National Trust visitor centre which has a cafe. There are lovely views of the grassland cliff tops from the visitor centre and a well-trodden path that takes you along the top to enjoy the views if you wish to do that too. Dogs are welcomed.
Getting to the Birling Gap by car takes about 50 minutes from Brighton or 15 minutes from Eastbourne. There is a national trust car park where charges apply which also has toilet facilities. On very busy days, this can be full and additional parking can be found across the road in a grassy area. If you are coming on public transport, probably the easiest option is to get the 12 Coaster bus from Eastbourne station.
Insider Tip: Park the car at the Tiger Inn in East Dean, a lovely old country pub, and walk to the Birling Gap from here. You can do a circular route which takes about 1.5 hours in total and finish with a cosy pub lunch. In the summer they've also got a lovely outside grassy seating area. For further details on this walk, refer to here:
https://www.nationaltrust.org.uk/birling-gap-and-the-seven-sisters/trails/birling-gap-walk-from-the-tiger-inn
3 Brighton to Hove stretch of beach
If you are looking for a stretch of beach that not only offers sea swimming & sunbathing (admittedly a bit uncomfortable on the pebbles) but a really buzzy atmosphere with entertainment, cafes, bars, restaurants and shopping galore, then this is the beach for you!
Brighton has a plethora of fun on offer and it's stretch of beach is very much included in that with excellent live music on the seafront at Brighton music hall, night clubs on the beach, pier, rides and entertainment for the children There's also a little Victorian train that goes up and down the seafront from east of the pier during the summer.
The new British Airways i360 has also become very popular. A futuristic-looking glass pod takes you to the top of a 162m tower where you can see views across Brighton, the South Downs and the sea.
A lot of refurbishment has taken place west from the pier where the old arches have been brought back to life and are now occupied by a lovely selection of local and independently owned shops, boutiques and galleries.
Further down towards Hove, people queue even on a cold and wet day to get a gelato ice cream from Marrocco's as they are so good; a bit further still is Hove Lagoon which offers all sorts of water sports activities and is next door to a children's play area, paddling pool and Big Beach Café.
Once you arrive at Brighton station, it's about a 15-minute walk in a straight line down the hill to the sea. It takes about the same time to walk to the beach from Hove station at the other end. Dogs are allowed on the beach all year round but restrictions do apply in the summer and are clearly marked. Toilet facilities are available at various points.
If you are arriving by car, parking can cost a small fortune in Brighton so be careful where you choose and allow plenty of time to find a space.
2 Camber Sands Beach
Camber Sands is like the East Sussex version of West Wittering beach, with the same allure of sand as far as the eye can see and tidal pools for splashing about in all day, framed by the sand dunes behind.
As with West Wittering, it too boasts a couple of beach cafés which are open all year round, as well as toilet facilities. If you are looking for something to eat, which is a bit better value, it is worth a little wander along Sea Road or Old Lydd Road where there are a few other tasty options to try. Otherwise, BBQs are permitted on the western end of the beach.
Car parking is paid for, and this can be up to £12 in the peak summer months. Spaces can fill up really quickly, so much so that if you arrive after 10am on a very busy summer weekend, you may struggle to find a space on the beach and end up having to park further away.
Dogs are allowed on the beach all year round, but restrictions do apply from May to September as you would expect. These are clearly signposted when you arrive.
It's worth mentioning that if you want to swim, both here and at West Wittering, you'd be strongly advised to check out the tide times before you go as it can be a long walk to the sea at low tide.
There are a variety of accommodation options to choose from, and it is just 3 miles away from the really pretty little town of Rye with its cobbled streets, medieval houses and castle so well worth a weekend away if you're looking to escape the city.
Camber Sands is about a 2 and a half-hour drive from London. You can access it by train from London St Pancras to Rye, then hop on a bus that takes about 30 minutes to Camber Sands (get off at the Pontins stop). From there, it's just a 3-minute walk to the beach.
1 West Wittering Beach
This beach is beautiful and would be hard to beat even compared to anywhere in the Mediterranean on a hot sunny day. It is framed by sand dunes at the top which then opens out to an enormous expanse of sea and sand depending on the tide, as far as the eye can see. When the tide goes out, you almost can't see the sea it's so far away, leaving acres upon acres of sand and shallow tidal pools. (If you are keen for a swim you might want to time it when the tide is high!) It really is a shining example of the best of what England has to offer.
Facilities wise, there is a café offering lunches, drinks and ice cream galore. Alternatively, you can just bring your own picnic or BBQ. There are also toilets and a large private car park but be prepared as the charges are high – it can easily be up to £8.50 or more for the day depending on the season and how long you plan to stay. It is a dog-friendly beach but there are restrictions in the summer (May to Sept). Also, do be mindful of when you plan to go as there can be a lot of traffic congestion from the A27, particularly on a summer bank holiday weekend.
West Wittering is about a 2-hour drive from London. Arriving by car is definitely the easiest option, but if you are coming by public transport from London, you would get the train to Chichester (there is a direct line from London Victoria which takes an hour and a half) then hop on the no 52 or 53 bus (Chichester bus station is next to the railway station) that takes 15 to 26 minutes depending on the route. You get off at The Old House at Home Pub and the beach is a 10-minute walk from there.