Arundel, West Sussex: a day trip and tourism guide for 2021
Arundel is one of the finest historic towns in southern England.
The charming town sits on the banks of the River Arun, and is famed for it's magnificent castle, the ancestral home of the Duke of Norfolk.
The castle has its origins in the medieval era but was twice renovated during the 19th century. Today the magnificent staterooms reflect this rich history and are packed with priceless antiques and historically important artefacts. The grounds surrounding the castle are equally as impressive; there are ornamental gardens, rose gardens and vast expanses of tranquil lawns.
The town of Arundel is as fascinating as the castle. Found in the town are a grand Neo-Gothic cathedral, the charming Saint Nicholas church, the decorative town hall, and a bustling Highstreet lined with antique shops and independent restaurants.
Cutting through Arundel is the River Arun, and following it upstream leads to unspoilt countryside and a wetland nature reserve.
Arundel is a wonderful and varied tourist destination, that you should definitely visit.
Related articles: Chichester guide – The best beaches of West Sussex
Highlights of Arundel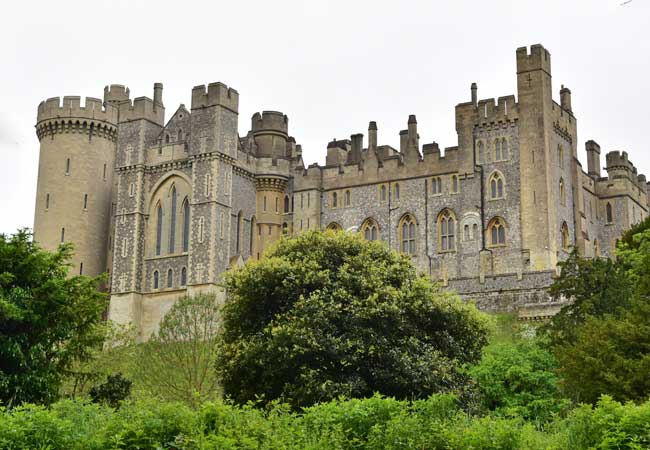 Arundel castle – A majestic medieval castle, boasting an extensive history, beautiful gardens and lavish staterooms. The castle is one of the finest historic buildings of Southern England, and is totally unmissable.
Warning: Tickets for the castle must be pre-purchased. At busy periods, tickets to the castle do completely sell out – always pre-book tickets before your day trip.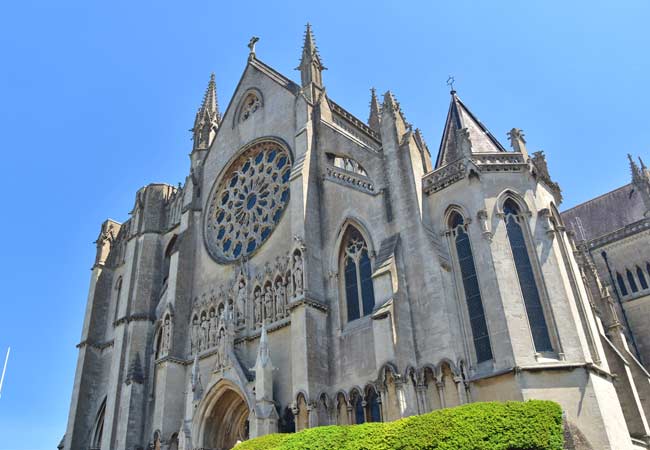 Arundel Cathedral – The magnificent 19th-century cathedral, that stands as a proud icon of the Duke of Norfolk's historical defence of Catholicism in Britain.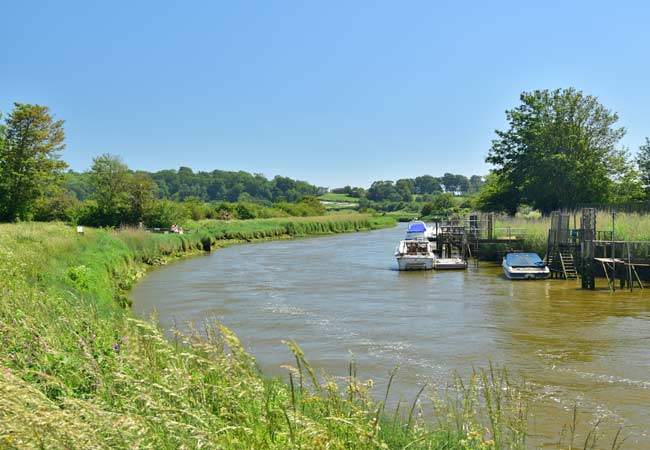 The River Arun – The tidal river that flows through Arundel that offers scenic riverside walks, wetlands rich with wildlife and fills the peaceful Swanbourne Lake.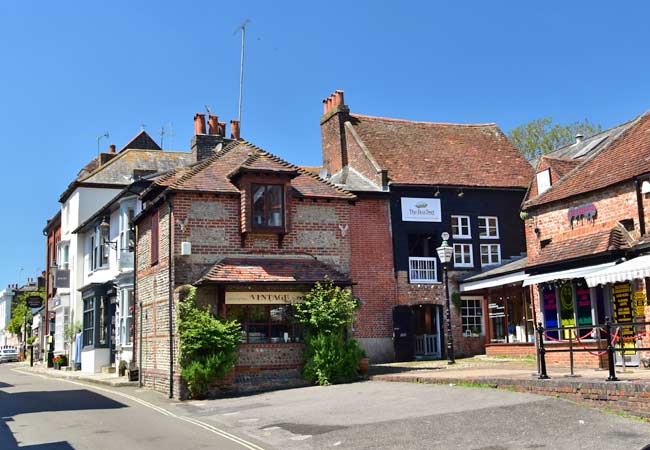 Shopping for Antiques – Arundel is a collector's paradise, with numerous Antique shops along Tarrant Street, crammed with historical curiosities.
A day trip to Arundel
Arundel is a fantastic destination for a day trip.
The main attraction will always be the castle, but there are many other interesting sights to fill a day of sightseeing.
Arundel Castle takes about two hours to visit; one hour for the grounds and a second hour for staterooms. After lunch in the town centre, you could visit the cathedral and browse the antique shops. Additional activities include a walk along the River Arun or visiting the wetlands managed by Wildfowl and Wetlands Trust (WWT).
Insight: The ticket to visit both the castle and gardens is comparatively expensive at £22, but is highly recommended. If you have no real interest in the historic staterooms you should at least visit the gardens, and the grounds ticket costs £14.
Warning: It is best not to visit Arundel on a Monday, as the castle is shut. Also on Mondays cafes, shops and restaurants are also closed.
Below is a suggested tour of Arundel and includes the highlights of the town and surrounding region. The yellow section highlights the castle grounds which must be paid to enter.
Sights of the tour: 1) Arundel Museum 2) Castle ticket office and entrance 3) Castle Gardens 4) Arundel Castle 5) The High Street 6) Tarrant Street (Antique shops) 7) Arundel Town Hall 8) Saint Nicholas Church 9) Arundel Cathedral 10) Mill Lane 11) Swanbourne Lake 12) Arundel Wetlands (Wildfowl and Wetlands Trust (WWT)) 13) Arundel Lido 14) River Arun walk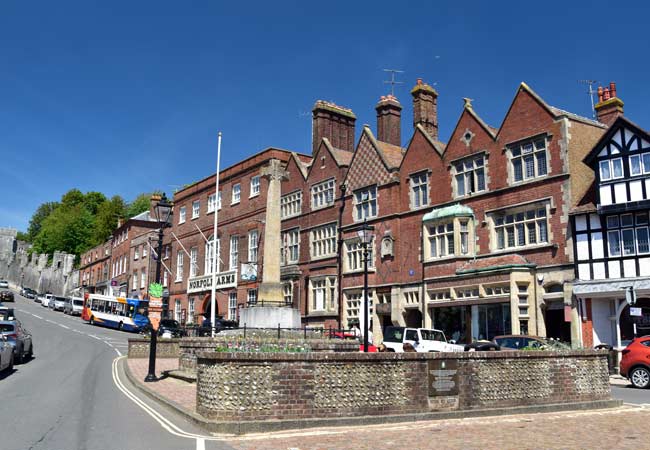 Arundel town centre
Sights of Arundel
Depending on the time of year you visit and what you feel like doing at the time, you may want to do all or a selection of the below:
Arundel Castle
Arundel's magnificent castle will be the first thing you see as you approach the town. It was built at the end of the 11th century on land granted by William the Conqueror. The walled gardens inside the grounds are an attraction in themselves, as is the Fitzalan Chapel.
https://www.arundelcastle.org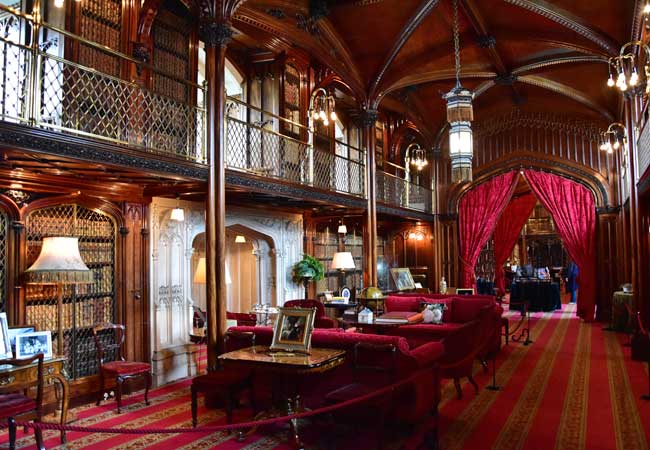 Arundel Cathedral
Arundel's spectacular Cathedral is situated at the top of the hill on London Road. It is open from 9am-6pm daily and entry is free. The building is regarded as one of the best examples of Gothic revival architecture in the French Gothic style in England.
Once a year, a famous Carpet of Flowers is laid for visitors to see a few days before the Corpus Christi mass (60 days after Easter). It is also a venue for the highly popular Arts Trail around the town supported by the Arundel Festival in late August. All year round there are concerts and recitals being held here so it's well worth checking out any performances during your visit.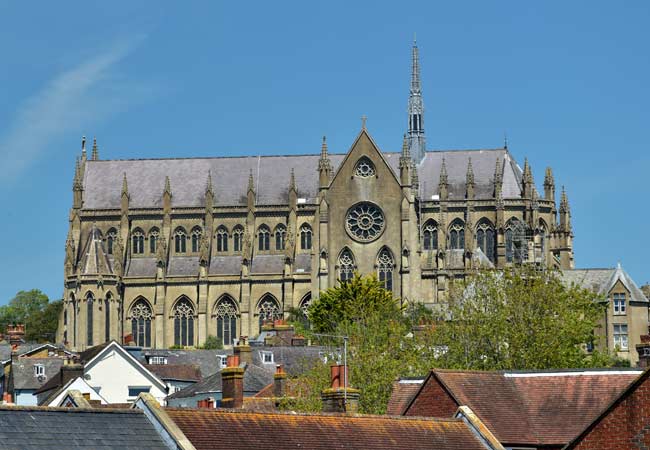 Arundel Cathedral stands high above the city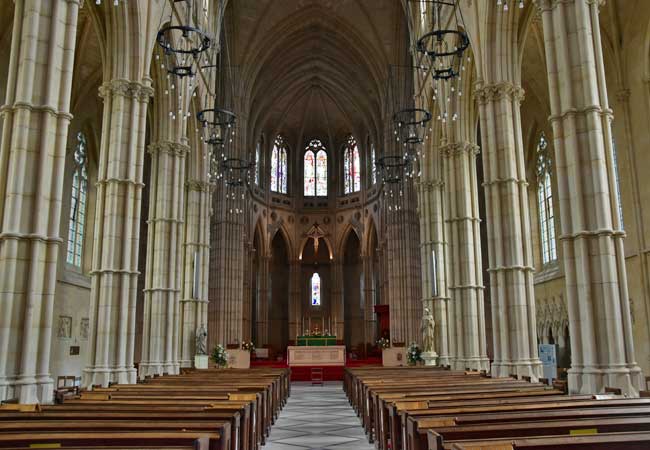 The relative modern design of the cathedral means that the interior is light and bright
Arundel Museum
Arundel museum is an excellent showcase of local history. It is run by a group of passionate local volunteers and has won a collection of awards since opening at its new premises next to the river on Mill Road, opposite the Lower Castle Gate. Entry is £4 per adult. During the Festival, it showcases the work of local student's GCSE and A Level artwork, very unique in its offering to the general public and which is very highly regarded.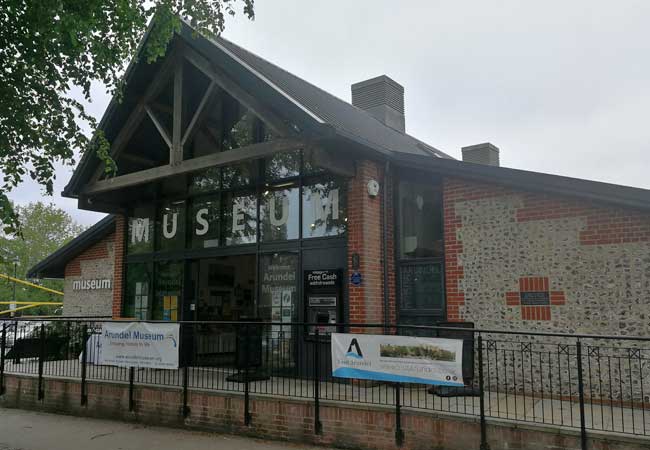 Swanbourne Lake
This pretty lake is close to Arundel Castle. You can get there on foot by turning by the post office onto Mill Road and going past the museum. The castle will be on your left and the river to your right. It is about half a mile along on the left.
From March to October you can hire a rowing boat and there are always a host of ducks looking for titbits, both at the lake and all the way along Mill Road. Dogs are permitted on leads and it's open all year round. There is a lovely little tearoom at the entrance.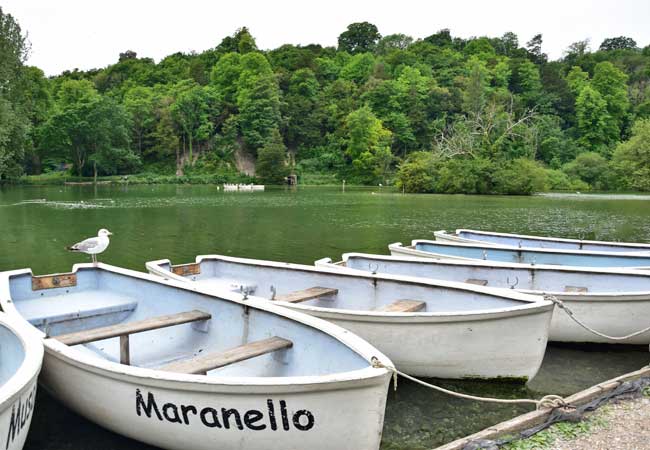 Arundel Wetland Centre (Wildfowl and Wetlands Trust (WWT)
This centre is located further along Mill Road on the right hand side. It is a great place to watch a huge diversity of wildlife with boardwalks that take you over the water and boat safaris in the reedbed channels. There is lots to do for children such as pond dipping, feeding the geese and having fun in the wildlife themed playground. The centre is open all year. An adult ticket costs £14.00; child £7.50.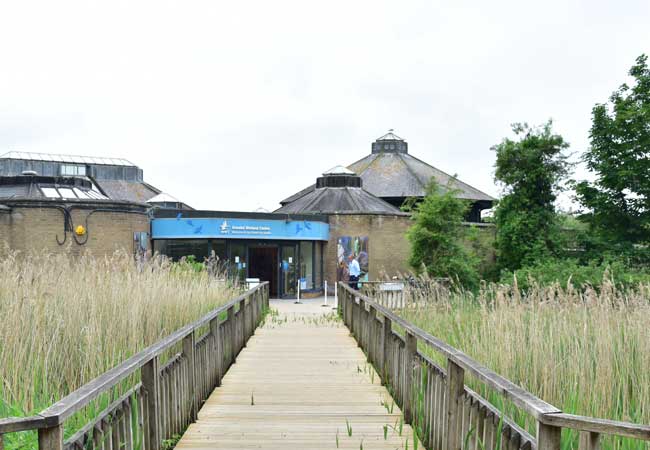 Arundel Lido
The Lido is open from May to September and offers outdoor swimming with stunning views of the castle above. There is a big pool and smaller padding pool for young children. Trees offer shade on a hot day in the surrounding grassy areas and there is a café for refreshments.
Opening times vary with the holidays (it opens at either 10am or 12pm) and a typical day ticket costs £8. It is located on Queen Street towards the train station on the south side of the river. There is a ticketed car park but in the summer it's advised to arrive early as spaces can be tricky to find.
Shopping in Arundel
Shopping for antiques and collectables
Arundel is home to a large collection of quirky antique, craft and arts boutiques. They can be found all over the town and you can find yourself getting absorbed for hours at a time finding all sorts of treasures.
Don't miss the Arts Crafts and Antiques Market at Nineveh House located on Tarrant street. It is open 7 days a week and is home to around sixteen separate shops. The Old Printing Works Shopping Arcade, also on Tarrant Street, is not to be missed. The town also has a wonderful specialist food and wine shop – Pallant of Arundel – at the bottom of the high street.
It's well worth a visit if you are looking for a treat. A Farmers market is held on the 3rd Saturday of each month from 9am-1pm and is a great place to source high quality local produce which all comes from within a 40 mile radius of the town.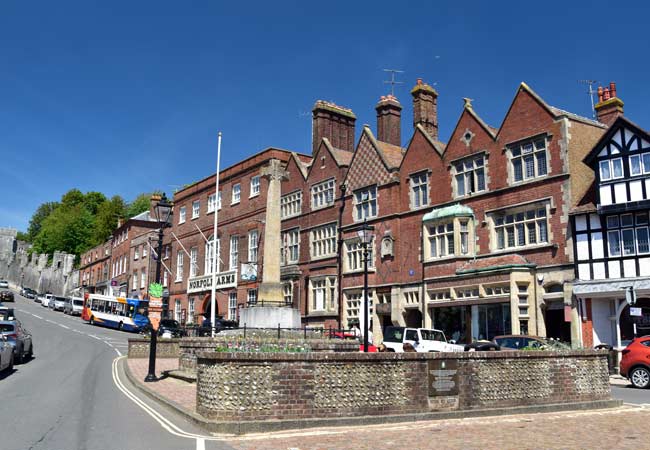 Contemporary Art Galleries
Arundel is a great place to enjoy contemporary art. The following galleries are highly renowned:
Zimmer Steward Gallery located on 29 Tarrant Street showcases emerging and established contemporary artists through a number of exhibitions every year. It is open Tues-Sat 10-5pm.
Gallery57, also located on Tarrant Street, is home to Ann Symes, herself a practicing artist. The gallery is open Thursdays – Sundays 10.30-5pm, from 12pm on Sundays.
Arundel Contemporary can be found at 53 High Street and represents artists from the UK and around the world. Open from 10-4pm daily, except Wednesdays.
The Arundel Gallery Trail is a free walkable open house art event which happens as part of the festival at the end of August every year. It supports artists and professionals at all stages of their careers and national and international standing.
Sights around Arundel
There is a lot to do in the region surround Arundel, some of the highlights include:
Circular walks from Arundel into the South Downs National Park
Arundel makes for an excellent base to some wonderful walks in the South Downs National Park. There is also a wide range of linear walks which are very accessible using the local train or bus routes to drop you off/pick you up at the end.
The area is very popular with walkers and cyclists, particularly given the proximity to the South Downs Way that stretches 100 miles from Winchester to Eastbourne and the Monarch's Way that stretches 615 miles from Worcester to Shoreham Harbour.
Petworth House
is an extraordinary grand building nestled in 700 acres of beautiful park land with the largest herd of fallow deer in England. It is home to a spectacular fine art collection with special exhibitions and events throughout the year.
It is managed by the National Trust so you can expect all the usual facilities that go with this such as a good café and gift shops etc. There is a paid for car park if you park at the house itself, or if you just want to access the park and take your dog for a walk, you can park in the Deer Park car park further along the A284 from the main house car park.
Charges apply to non-National Trust members of £4, otherwise it's free.
Petworth town itself is a lovely place to wander around for a couple of hours. There is a small selection of really unique shops to peruse – particularly antiques, country interiors, bookshops and galleries. There is also a selection of very good pubs, tea rooms and restaurants.
Bignor Roman Villa just a 15 minute drive away from Arundel, is famed for having the most complete and intricate Roman mosaic floor in the whole of the country. It's in a stunning location with expansive views of the downs.
Bignor Hill Car Park is located above Bignor Roman Villa and should you have the advantage of having a car to take you there (it's a very steep climb otherwise but you can walk to the top too), plus the time to indulge, it's the most fantastic hidden gem of a spot with views all the way to the sea on a clear day in one direction, and far across the Sussex countryside in the other.
There are walks in all directions, you can access the South Downs Way from here and it's a perfect place to relax and have a picnic in the summer.
Amberley Museum and Heritage Centre is an open-air industrial heritage museum great for families to experience 150 years' worth of the South's working past. It is open Wednesdays to Sundays 10-4pm with events and exhibitions going on throughout the year.
Lunch in the garden at the Black Rabbit
The Black Rabbit pub is further still down Mill Road. It is about a half an hour walk from the town centre. On a warm day in the summer, there is no better place to enjoy a pub lunch than in the garden here overlooking the river. It is very popular with the locals and can get extremely busy in the holidays so it's worth booking ahead or getting there early.
Travel to Arundel
Arundel is less than 2 hours' drive from London, and is only an hour and a half from London Victoria direct by train (which is on the Gatwick airport line). This makes getting here very easy.
Arundel is a very small town, and as such it is easy to walk around and navigate. If you prefer, it's possible to take a guided tour which costs around £10 per person and takes about 2 hours, or a little bit extra if you want to add a vintage cream tea afterwards.
The train is also direct from London Victoria station, and from here it takes under an hour and a half. A single adult ticket would be about £32.30 and off-peak return £32.40 for a day trip or £39.30 anytime return within one month. Arundel is accessible from the south coast rail line too so can be easily navigated to from cities such as Brighton or Chichester where bus links are very good too.
The latest train timetables can be seen here: https://www.thetrainline.com/
The latest bus timetables can be seen here: https://www.stagecoachbus.com/
Arundel's train station is located 15 minutes' walk from the town centre. You come out of the station onto the A27 which is a busy main road but you follow the pavement along to the roundabout where you take the 2nd exit along The Causeway with the river to your right and castle straight ahead into the centre.
Arundel itself makes for a great weekend away and there are a selection of very nice places to eat and drink. If you can indulge in more time, Arundel is surrounded by an array of interesting things to do nearby which are explored in the section 'Why stay longer in Arundel'.
Who is Arundel ideal for?
Arundel is ideal for you if you enjoy immersing yourself in a bit of history and culture and combining it with outdoor activities such as wildlife watching, outdoor swimming and walking in the countryside.
As such, it is popular with couples, small groups and young families.
Arundel Festival
This event is the highlight of the Sussex summer for many and is held around the last 10 days of August every year. It is the largest volunteer-led, community based art festival in the South with hundreds of events from street entertainment, to music, the hugely popular Gallery Trail, Dragonboat racing… the range of events and activities is huge and is a must-see if you visit during this time.