Salisbury cathedral spire
The Salisbury cathedral spire dominates the city's skyline and can be seen from miles around, even though the cathedral is situated at the lowest point of the region. The spire stands at 123 meters (404 feet) and has been wowing visitors since it's construction in the 14th century. The spire and tower of Salisbury cathedral are a wonder of medieval architecture but more importantly a fantastic example of 17th century ingenuity to keep the place standing!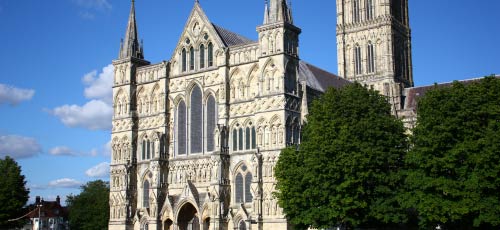 Salisbury cathedral
Tourist Information about Salisbury cathedral spire
There are tours which climb Salisbury cathedral spire and the 330 steps. The stairs ascend for 69 meters to the top of the tower and base of the spire. From this vantage point there are great panoramic views over Salisbury while inside the medieval internal construction of the spire can be viewed.
Tourist information
The Salisbury cathedral spire tours depart during the summer months (Apr-Sept) at quarter passed the hour from 11:15 until 14:15. During all other months there is at least one tour per day (Monday to Saturday) at 13:15 expect for December when it is at 12:15. The ticket price for the guide tour is £10/£8 (adult/child) and last approximately 90 minutes. Do be warned the steps are very old, worn with few handholds.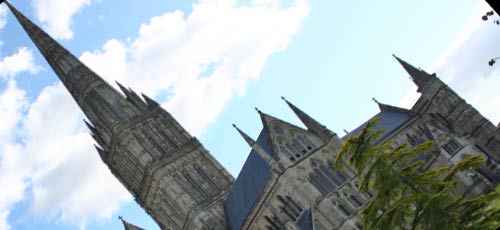 The massive spire of Salisbury cathedral
The cathedral is famed for it's off centre spire which was confirmed by sir Christopher Wren in 1668. The top of the spire lies 0.7m (2.3feet) off centre but fortunately the spire is not shifting as latest measurement taken in 1980 agrees with the initial recording.
The Spires Lean
The spire that sits atop Salisbury cathedral is the highest in Britain and is the icon of the city but this masterpiece was never intended for the original cathedral. The addition of the massive spire required extensive strengthen of the original cathedral but this did not prevent the spire's off centred lean caused by the huge weight. Visitors can view this strain on the cathedral by the curvature of the four huge piers that support the spire.
The central piers indicate the massive weight 6,500 tonnes that was added to the structure. The four piers that take the entire load of the spire lie below the tower and if visitors look up (especially at the eastern side) the extent of the compression on the stone work can be easily seen. The piers when viewed in 1668 by sir Christopher Wren were under so much stress that there was significantly arching inwards and there was real concern that the entire structure may collapse.
The engineering genius of Wren inserted timber beams between the four piers to prevent any further inward shift and hung a false ceiling to hide the necessary supportive structure. The cathedral was completed in 1258 but the spire construction did not start until 1285. The dangerous and tricky project was completed 30 years later in 1315.